Tim Rader speaks to students about his personal battle with drug abuse and addiction
Twice, Tim Rader faced seemingly insurmountable odds and won. As a promising high school quarterback in his senior year, Tim was diagnosed with Non-Hodgkin's Lymphoma. His dreams of playing college ball were shattered as he fought for his life. Tim beat cancer but was left with a serious opiate addiction that would haunt him for more than a decade. Now living drug free, Tim tells a story of addiction and redemption that is a cautionary tale from which anyone can learn.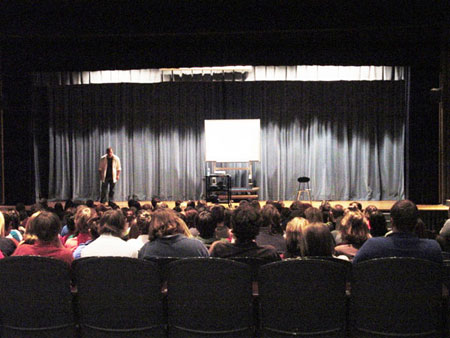 "I've been teaching for 28 years. The gentleman that spoke about addiction today was one of the best I have heard in my career. He was real and related well to the students. After surveying my classes, I believe he really hit home with his message. Thank You for giving the kids this opportunity."
Mr. Mark J. Solon, Science Teacher
Tamaqua Area High School
"Students and staff both commented that this heartfelt story hit home and
was one of the best programs ever presented ..."
Mrs. Bonnie Kaplan Yanuskiewicz - SPARTAN TASK FORCE,
North Schuylkill Jr.-Sr. High School
"I cannot remember a speaker who held the attention of all the students so effectively ..."
Mr. James A. Yacobacci - Assistant Principal, Minersville Area School District